Pet Portraits by Cherie
Realistic pet portrait drawings of dogs, cats, parrots, horses and other exotic pets
PortraitsOfAnimals.com
Makes a GREAT gift!
Link To Pet Portraits by Cherie
Proud Member of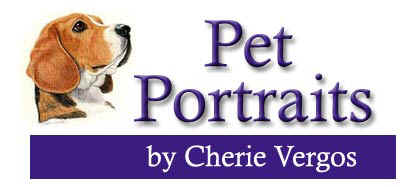 Pet Portraits by Cherie

Art, Jewelry & Craft Links
Would you like to exchange links or banners with me?
Grab my banner here:
Link to Pet Portraits by Cherie
14K-9, Inc. - Solid Gold & Silver Dog Breed Jewelry -Designers and Manufacturers of Solid Gold & Silver Dog Breed Jewelry including Ribbons and Titles, Dog Tags, Equine, and Designer Jewelry
Agora Gallery, SOHO, New York -Contemporary fine art gallery located in Soho , New York City. Art consulting services to private and corporate collectors. Exhibitions of paintings , sculpture and photography. Artist portfolios are reviewed
American Impressionist Painters: McDougall Fine Art Galleries specializes in American paintings and watercolors of the 19th and early 20th ! century. Over 40 years experience in marine paintings and nautical artifacts
America's Wholesale Oil Painting - Offering world famous oil painting reproductions. Thousands of genuine oil reproductions of masterpieces
Animal Art and Pet Portraits by Colette Theriault - Realistic, true-to-life graphite drawings and watercolor paintings of animals and pets; custom pet portraits of dogs, cats, horses, ponies, birds, small animals and any domestic pets from photograph and images by fine artist Colette Theriault
Animal Sculpture - Bronze Sculptures - Bird Sculpture - JonathanKnight, a leading animal sculptor company specializes in providing bronze horse sculpture,bronze animal statues, metal sculpture, Bird Sculpture, Equine Bronze, animal sculpture, bronze sculpture, horse sculptures, bronze statues. Animal sculptures in bronze and wood carved by equestrian and racehorse artists are also offered by JonathanKnight
Art & Paintings Gallery Arts-fine.co.uk- High quality paintings, from artist Samuel Durkin
Art From Nature - Wildlife art, graphics and pet portraits on t-shirts, mugs, sweatshirts and more. Wildlife such as jaguars, tigers and birds of prey can be found on clothing, posters, mousepads and many other unique gift items.
Artist Teresa Bernard Animal Art And Wildlife Oil Paintings - Original wildlife oil paintings for sale ó including portraits, seascapes, still life, landscapes, religious art and commission art. Free online art lessons. Also offering professional Web design and SEO for the visual arts

Artelino - The Magic of Art

Arts-Fine Original Paintings for sale - Online Gallery of Artist Samuel Durkin


Art Gallery Worldwide - A lot of artworks in different styles and media. Website offers a wide variety of features and services that enable customers to buy and sell their art.

Atelier Yoyita , classical realism, Renaissance, Portraits, Art gallery

- Atelier Yoyita : Classical Realism, contemporary art with the techniques of the Old Masters. Paintings and Sculptures

Caricatures of Famous People - Our professional caricature makers create and draw caricatures of celebrities, famous people, funny cartoon

characters, pencil portraits, oil portraits and much more at affordable rates

Celtic-Wedding Bands-Wedding Rings And Jewelry... We bring you a wide selection of Celtic Wedding Bands,Wedding Rings and Celtic Jewelry from Ireland's finest craftsmen...

Child Portraits

- Gittings photographers are professionally qualified & specialist in Portrait pictures. Our photo gallery includes family, child, baby & wedding pictures Online!

Dog Art by Collect Art - Based in the UK, Collect Art offers limited edition prints and paintings, by various artists including Debbie Gillingham, John Silver, Nigel Hemming and many more.

Dog Portraits by Kathryn Beals - Dog artist Kathryn Beals paints classic portraits of animals from your photographs. A hand-painted pet portrait on canvas is the gift that will be remembered for a lifetime.

Duncan Macgregor -John Noott gives you a chance to buy some of the magnificent acrylic paintings by Duncan Macgregor.

Faithful Friends Portraits - Lifelike portraits in acrylic by Artist Nicky Jones, specialising in detailed paintings of dogs, horses, cats, people, and wildlife, from photographs.

Favorite Paintings- Quality Oil Paintings & Frames. Free S&H. Big Sale-Great collection. Free greeting cards

Fine Art Photography Kitten Gallery - Discover breathtaking pictures that allows you to create a unique home that will refresh, and uplift your soul. Also makes a wonderful gift idea. Enjoy free screensavers, free wallpaper, and enter a free contest!

Fine Art Reproductions- Quality, hand painted, oil on canvas reproductions of over 750 artists and over 7,000 paintings

Fine Pet Portraits in Pencil or Pastel - UK-based artist draws your pet from a good photo in pencil or pastel. Affordable artwork for everyone. A timeless memory or unique gift. Satisfaction guaranteed!

Gallery Today.com - Online Art Gallery which sells original paintings by talented artists worldwide.

Headshots NYC- Meredith Zinner is an experienced New York headshot photographer providing dynamic headshot photography for actors in NYC.

Jackie's Pencil Portraits - Pencil Portrait artist Jackie Cooper can create a lifelike portrait from your favorite photo of a loved one.

Jig saw Puzzles & Jigsaw Puzzle Mat - Jigsaw Puzzles and Jigsaw Puzzle Accessories at Simplepastimes - offering Jig saw puzzles & games from makers like Ravensburger, FX Schmid, White Mountain, SunsOut, MasterPieces, Ceaco, Milton Bradley and Parker Bros.

Limited Edition Art Prints

- Enter our online art gallery to buy framed and unframed fine art prints. Buy nature and landscape artist artwork online.
Lost Angeles Rubber Works- Come see our Original rubber stamp designs including Pets, Animals, and Spay/Neuter Cartoons!

Medalye Designs - Beautifully handcrafted beaded lanyards, eyeglass chains, eyeglass holders, and more. Practical yet elegant costume jewelry designed for your wardrobe!

Milan's Sculpture -

An Online Gallery of Milan Sengupta's SCULPTURE & CHALK SCULPTURE of realistic portraits ,figures & compositions

Moores Art Gallery - Original color pencil artwork and photography by artist Carol Moore. Specializing in wildlife, canine, feline, florals, landscapes and mystical portraits.

NYC Photographers - Capture dynamic headshots with Meredith Zinner, one of the best professional headshot photographers in NYC.

Oil Paintings Reproductions - Oil paintings on canvas artwork of over 3,000 artists Ė including Van Gogh, Salvador Dali, Picasso, Renoir, Monet, and more. All artwork can be optionally framed

Oil Paintings. Oil Painting Reproductions - on Canvas. Buy Art Reproductions from 1st-Art-Gallery.com, the largest gallery in the world. 100% handmade with free worldwide shipping. Choose from more than 40,000 paintings and 5000 artists. Money-back guarantee on all orders

Oil Paintings Gallery- Oil Paintings Gallery offers beautiful oil paintings artwork and frames

Painter Gallery- Directory of artists and painters.

Paintings by Pet Portrait Artist and Wildlife Artist Karie-Ann Cooper: Stunning pet portraits and wildlife art by trusted artist. Paypal available and international commissions welcome

Pastelpals Portraits - Sensitive portraits of pets and people from your own photographs by UK artist Lorraine Clivery

Pencil Portraits Drawn from Your Photographs! -Pencil Portraits make the perfect personalized gift for any occasion. Send me your photo and I
will create for you a Pencil Portrait that will be admired and cherished as an heirloom for generations!

Pencil sketch, pencil portraits by Gene, also pet portraits - A pencil sketch by portrait artist Gene will be a cherished heirloom for loved ones. Pencil portraits are a one of a kind portrait drawing of family, friends, and pet portraits.

People Portraits

- We specialize in original portraits of people, pets, or any image thatís special to you. Find the original paintings of the famous painters like Picasso, Vincent Van Gogh and Claude Monet.

Pet Photo Artist

- The Pet Photo Artist transforms your favorite pet photo into a stunning Pet Portrait at a fraction of the price! Choose from many traditional and pop art styles.These are hand-drawn digital paintings that are absolutely beautiful!
Pet Portrait Artist Catherine Garneau -Capture your beloved pet's unique personality in stunning lifelike detail in oil or pencil by pet portrait artist Catherine Garneau. Affordable rates with low deposit to start. Gift Certificates available to help someone honor the memory of their lost pet. Browse gallery, read testimonials and commission a pet portrait you will be proud to own.
Pet Portraits by Cherie Vergos -
Pet Portraits by Cherie capture the beauty, sweetness, and personality of your special companion in lifelike detail. These beautiful pet portraits are custom-drawn from your favorite photo (used as a reference) by animal artist Cherie Vergos.
Pet Portraits by Dale Lewis - This site displays samples of the highest quality,
commissioned pet portraits and pet art prints, movie star
portraits, and art prints of the Edmund Fitzgerald."
Pet Portraits by Jack Lindsay -Dog portraits, cat, horse and bird pastel pet portraits that capture the unique personality of your beloved pet by animal artist, Jack Lindsay
Pet Portraits by Eric Stewart

- Your pet featured in beautiful original art, by award-winning portrait artist Eric Stewart

Pet Portraits by Sarah Theophilus - Beautifully lifelike & sensitive pet portraits capturing the spirit of your dog, cat, or horse in oil pastel from your photos. Art cards, prints, wallpapers & free e-cards also available

Pet Portraits from Photos- Hand-painted portraits of pets and family from photos by portrait artist Joseph Dea

.

Pet-Portraits.co.uk - Creative portraits from photos in watercolour by Christine
Varley.
Pet Portraits by Tim McIntire - Pet portraits from your photos, including dogs, cats, and horses. Mediums include pastel, charcoal, graphite, colored pencil and acrylic
Pet Portraits by UK Animal Portrait Artist Sally Logue - pet portraits in pastel of dogs, cats, horses, other
pets and people.
Pet Portraits by Portrait Artist Joseph - Captivating Digital Portrait Paintings on Canvas from Your Photos. E-mail or mail me your favorite photo of your pet, your cat, dog,horse or anything, I will transform it into a digital portrait painting on fine art canvas and ship to anywhere
Pet Portrait Artist - Melanie Phillips professional pet portrait artist, secure online ordering. Worldwide delivery.
Pet Portraits from Iconic Dog: Custom Dog, Cat and Other Pet Portraits in
Oil by Gwen Rosewater
Pet Portrait Paintings | Painted Dog Portraits | Buy Pet Portraits from Photos - Melissa Smith specializes in affordable custom pet portrait paintings: painted dog portraits, cat portraits, horse portraits, animal portraits. Pet gifts, Pet Loss Memorials.
Picture Evolution offers a full range of photo editing services. Whether you are looking for a unique photo gift or just need a photo repaired or enhanced we can take care of all your photo editing needs.
Portrait Drawing - We offer various types of portraits like - pencil, oil, charcoal, ink, and watercolor portrait at very attractive rates.
The Portrait Workshop Pet portraits by Amanda Brown in oils, pencils or coloured pencils. Orders accepted from all over the world with free delivery.
Professional Pet Portraits by UK Animal Artist Amy Fishenden (Orders accepted Worldwide)

Sally Jane photographic art and pet portraits. Beautiful images painted by camera
Simon Birtall Fine Art & Illustration
: Impressionistic art by UK artist and illustrator Simon Birtall. Art to buy or commission. Portraits of family and friends painted from photographs.
The Magical World of Horses - The Equine Art of Suzana Stojanovic an artist. Original oil on canvas and pastel paintings. High Realism
The Pilothouse Gallery Pet Portraits - Beautiful Pet Portrait by Sarah Napier-Fenning from the floating Pilothouse Gallery on the river Medway
Trade Show Graphics - Whether itís a product launch, PR campaign, or mobile promotion, Dynamite Digital can help to get the word out. We will wrap virtually any vehicle, from buses, taxi's, vans, autos, planes or even submarines
Van Gogh Studio - your museum quality art reproductions
Hand painted museum quality Vincent Van Gogh art reproductions. The best on the net!

Furry Friends Web Design - Catering exclusively to the animal community!